Some might think 220 horsepower isn't enough for a mid-size sport utility vehicle that weighs 4700 pounds, but we did two stints at the wheel of the Hummer H3, one in increasingly inclement and icy weather, and found the powertrain more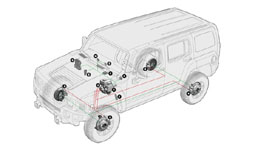 than adequate, whether we were just driving around town, cruising at speed with left-lane traffic on the Interstate or crawling our way over big boulders on a very difficult off-road trail.
Like other Hummers, the H3 was built not for its zero-to-60 mph acceleration time but for its ability to climb 60 percent (31-degree) grades, to handle 40 percent side slopes, and to ford 24 inches of water. But the Hummer H3 isn't at all sluggish when you enter a freeway on ramp and the engine emits a nice growl as you accelerate to the speed limit.
The capabilities engineered into the H3 for off-roading also are beneficial in city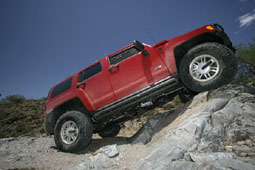 driving, and especially in parking, where the tight steering and 37-foot turning circle combine to make parking, even parallel parking, a simple maneuver.
We were concerned that the upright windshield might impede the view of stoplights that hang above an intersection, but we experienced no such problem. But we did like the secure feeling you get driving or riding in a vehicle that gives you the sensation of being in a rolling fortress.
A suspension system designed to deal with extreme hazards of off-road driving improves on-road performance as well, whether it's in the way the traction-control operates on slippery surfaces or the way the shock absorbers and secondary jounce bumpers make smooth work of potholes in the pavement.
| | | |
| --- | --- | --- |
| | books | sponsored links |
Engaging low range readjusts the computer mapping to provide the slower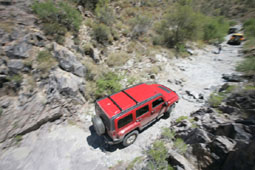 throttle progression needed for safely stepping over boulders and other obstacles; low range also changes shift points in the automatic transmission to allow for higher torque in lower gears and linear rather than snappy shifts.
We were amazed how the stock Hummer H3 tackled a trail normally reserved for modified off-road vehicles. General Motors says its engineers and designers created the H3 to have best-in-class off-road ability. Our experience indicates that they achieved their goal. The H3 is an authentic Hummer.